Here we go....
I think King Dunlap is calling out @BFTB_Chargers in this @UTkrasovic story. RIP @john_gennaro http://t.co/95yfJCVE2J

— Ben Higgins (@BenHigginsSD) July 31, 2015
In case you're too lazy to click and read Kras' article, here's the meaty part:
King Dunlap knows of the outside talk about linemate D.J. Fluker.

The King isn't buying it.

"The experts say he needs to move to guard," Dunlap said Thursday. "Maybe we can tell the experts they should start doing something else. That's why they're out there, and we're in here. They can say what we want. We know what we want, and we know where he belongs.
This is me right now: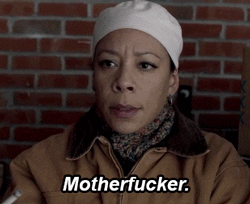 I'm kidding! I swear I'm kidding. Although, I would like to point out the main reason I'm "out here" while offensive linemen are "in there" is because I'm not 6'6" and 300 lbs with nimble feet and incredible balance. At the very least, it has more to do with that than it does my opinions on certain players after watching game tape.
Look, this is what people don't really understand. As cool as it would be to have Chargers players and coaches reading BFTB and heeding my advice, the truth of the matter is that would make them less focused and worse at doing their jobs (trying to win football games). They don't need to be out on the internet looking for criticisms that can hurt their confidence, and they don't need to be listening to anyone except for their wives and their coaches.
While I'm not glad to see 'The D.J. Fluker Right Tackle Experience' fired back up at the start of training camp, I'm not going to hate on the King for sticking up  for his teammate or calling me out.
When push comes to shove, I'm not even worthy of the 'expert' tag he may or may not be throwing at me. BFTB is fun. It's a hobby. It's my side project. It's a 'blog', and it was a blog when that word held all sorts of mocking connotations to it.
All of that being said, Dunlap is now the leader of the offensive line. He's taking the role over for Nick Hardwick and will probably get a big captain's C on his chest this season as a result. It's his job to support his guys publicly, especially the young guys that have been here for a few years.
So, I will sit here and continue to think that Fluker is a below-average Right Tackle that could be an above-average Right Guard, and I'm going to assume that Dunlap has eyes and a brain and so he thinks the same thing. All he's doing here is his job as a team leader.
Good job, big guy.
#BarksdaleForRT2015