Last week I gave you my two cents on who I think the San Diego Chargers should target if they chose to go the route of Free Agent Running Backs. Today let's talk about some guys on the perimeter, the wide receivers.
Just to give you a general idea on who's available, take a look at this list Pro Football Focus put together. As you can see, there's a good deal of talent available. I'm in the extreme minority that the Chargers should spend a 1st or 2nd round pick on a receiver in the 2014 NFL Draft, but I also believe it's just as important to bring in a free agent to help bolster the position as well.
The odds of uber-talented Danario Alexander being brought back are slim to none. For his sake, I hope Malcom Floyd retires. He's one of the most under-appreciated receivers in the past 5 years, but football is just a game. Looking at Eddie Royal's contract, he would seem to be a heavy favorite to be a cap casualty or to be reconstructed. That leaves a WR depth chart of Vincent Brown, who was phased out as the season went along, and the best rookie receiver in 10 years. It's pretty clear that the Chargers need to get Philip Rivers some help this off-season.
So, let's get to some of the names that can help.
What this offense asks receivers to do is win early in your route, and create after the catch. Those are the two biggest traits that jump out to me (outside of catching the ball). Tom Telesco will want a receiver that is quick, has some wiggle, and at the same time doesn't play "small" or lack toughness, because we know how important it is for receivers to block, win 50/50 balls, and not be afraid to go over the middle in this offense.
In his post season press conference, General Manager Tom Telesco said that he wants to infuse some speed on the offensive side of the ball. This makes sense. Teams were able to sit on the Chargers routes, and stretching the field was a big issue. From week 13 on, San Diego only attempted passes beyond 20 yards 15 times, and that includes the tight ends. What I I'm looking for his receivers with all the traits I mentioned that will also be able to stretch the field. I'll include 40 times but some guys play much faster than they ran the 40 yard dash (and vice versa).
Similar to running backs, there should be a list to disqualify certain guys. Here's what I'm looking for:
Under 28
Ability to create after the catch
Can stretch the field
Can win 50/50 balls
Can catch in traffic
I created some confusion when I used the term "athletic" in my last article. When I say the Chargers need to get more athletic, I mean a lot of these traits, not necessarily tied to speed. I'd consider Keenan Allen incredibly athletic, with his ability to make people miss, high point the ball, and stop and start. There are plenty who consider Allen "slow" for a receiver, so speed and athleticism aren't necessarily tied together. Because I feel the Chargers need to get more athletic, that is going to eliminate some names off of the list. Go ahead and scratch off Eric Decker, James Jones, Riley Cooper, Kenny Britt, and Brandon LaFell. Those are all talented players in their own right, they just don't fit the bill.
The next issue is risk/injury signings. So let's get rid of Jerome Simpson, Hakeem Nicks, Jeremy Maclin, Kyle Williams, and Mario Manningham. Probably the best of the bunch, is Julian Edelman, whose first healthy season was in 2013. Unfortunately, we're going to have to cross him off the list too.
Because a team will over pay for Emmanuel Sanders, that leaves San Diego with 4 legitimate targets who could come in and contribute right away.
The 3rd round pick in 2010 has very good speed (4.46/40) but is even quicker than fast. He's a guy that got phased out of the Cardinals offense due to them wanting to run the ball more.
If you go back to 2012, his "breakout season", you can see the talent and how he'd help. He showed he can win on the outside and get behind the defense. There were times where he was open but because his quarterbacks were abysmal he wasn't able to put up the numbers he could have.
Roberts makes tough catches down-field and over the middle, and would give the Chargers an added dimension that they don't have on the perimeter. Because he doesn't have gaudy numbers, he would be very cheap as well.
I want to be clear that this is far from "copying the Seahawks blueprint." There are obvious reasons why Baldwin would be a great fit in this offense. He's measured at just under 5'10. To go full nerd on you, Baldwin has 75 1/4 inch arms, that gives him the wingspan of a 6'1 receiver. Baldwin can run (4.47/40), but his greatest trait is likely his acceleration. This is most notable when he's getting in and out of his breaks to create separation, or when he has the ball in his hands.
Baldwin was 15th in the NFL at 15.6 yards per catch, and was 2nd among WRs in DVOA, which should tell you how good he is when the ball is in his hands. Best of all he dropped only 2 passes in 88 targets. Baldwin also has some special teams value, and would probably be my pick of each of the receivers I mention. He's the perfect compliment to Keenan Allen, in that he's far from just a vertical receiver and fits this offense to a tee.
Hawkins is another guy that fell victim to the numbers game. He's a restricted free agent, but I don't see the Bengals asking for very much in return for him. Hawkins somehow plays even smaller than his 5'7" frame, making him a slot receiver only.
The plus side? Hawkins is basically Tavon Austin. If you want to waste 9 minutes of your life, watch these cut ups of Hawkins. The way he's able to stop and start, and vary his speed throughout the route is a thing of beauty. If that's not enough, just think back to week 13 when he went for 50 yards against the Chargers on one play by simply out running everyone in the secondary. Hawkins would give the Chargers "free yards" on screens. It's pretty ridiculous what he can do with the ball in his hands.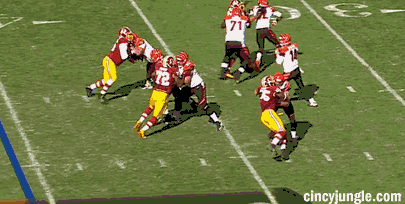 Golden Tate

(Seattle Seahawks)

Another talented receiver from the Seahawks that I would put on this list if he played for the Rai...Browns. Tate is another guy that's listed at 5'10, but plays much bigger than his size. The speed isn't an issue with Tate (4.42/40) and he's another smooth route runner.

Tate led the NFL in yards after the catch as well as forced the most missed tackles of any receiver, at 21. Another sure-handed receiver, he dropped 4 passes in 107 targets. Tate plays on both kick and punt teams, and is also the full time punt returner for Seattle. So there's plenty of value there.

He's known for his highlight catches down the field...


As an added bonus, he can do this....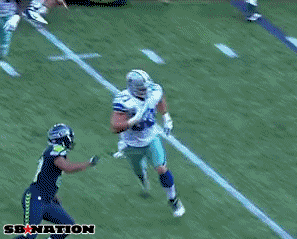 If you're against showboating, Tate isn't your guy.


There's my free agent list. We're not there yet, but there's a certain WR that I want the Chargers to draft in the 1st round and if he's not available there's one that should be in the second round I really like. Either way, the Chargers need to add help on the perimeter. Which receiver do you want them to sign?
More from Bolts From The Blue