I am going to be upfront with you, I had a lot of fun doing the research for this article. I'm headed into my sophomore year at Arizona State University, and I got to witness first-hand the best season Arizona State football has experienced since their trip to the Rose Bowl in 1997, winning 10 games and the Pac-12 South. So, while going through film of Alden Darby, a lot of the games I evaluated him on were games that I was present at.
With all of that said, I'm still a professional and remain unbiased in my evaluation of a player. So, before we break down his game, here's a little bit more about the name. Darby played safety for the Sun Devils, and his leadership and character made him very popular in Tempe. While he didn't get drafted in May, the 22-year-old from Long Beach signed with the Chargers a couple of days after they drafted his teammate at Arizona State, Marion Grice. But the transition from the collegiate ranks to the NFL is a difficult one, and Darby joins a crowded Chargers group of safeties. Let's take a look at Darby, starting with his career as a Sun Devil.
Performance
Named to the Pac-12 First Team in 2013, Darby was a senior leader and captain for Todd Graham's Sun Devils. Scarcely recruited out of high school, Darby signed to Arizona State and contributed right off the bat, playing in eleven games as a true freshman. He earned the starting safety job his junior season, and started the next 27 games Arizona State played. His senior year he tallied 72 tackles, which is impressive considering his position. In Graham's defense, Darby played as a boundary safety, meaning that he played a role similar to the role Troy Polomalu plays in Pittsburgh. He was a ballhawk, totaling ten interceptions in his career and 8.5 tackles for loss. He also played the regular corner and nickelback positions in the last two years of the Dennis Erickson era.
It's notable as well to acknowledge Darby's background. Both of his parents were in and out of jail throughout his childhood, and he was raised by his stepfather. His upbringing adds to his strong intangibles, and he was loved by Arizona State coaches for his leadership and character. He was the first Sun Devil to wear the revered Pat Tillman #42 practice jersey. These qualities are not to be undervalued, and captain Eric Weddle will likely notice them while working with Darby in training camp.
Strengths
Darby's job in Tempe was to be a ballhawking defender, and that's exactly what he is. He's versatile and is an intelligent player, Darby made the secondary calls and checks for the Sun Devils. He was also the primary gunner on special teams for Arizona State and excelled at it. Darby flies around the field, and is a big hitter who is thicker than his 5'10", 190 pound frame suggests.
Against USC in 2013, Darby had his finest collegiate game, picking off Cody Kessler in an Arizona State rout.
Darby showed his playmaking ability, timing his jump on the route perfectly and then weaving his way to the end zone. He intercepted running back Tre Madden later in the same quarter, sleuthing out the halfback option play and jumping in front of the receiver, adjusting his body to make the catch.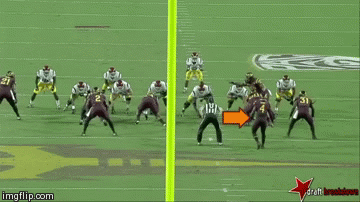 The intelligence to recognize which direction the halfback option was going, coupled with the ability to get back in coverage in time and pick off the ball make for an impressive play from Darby.
Weaknesses
While a playmaker with a high football IQ and strong intangibles, Darby is not without his flaws. He has struggled in man-to-man coverage, lacking the speed and agility to keep up with top tier wide receivers. Now, take another look at the interception gif directly above. Darby does a great job of recognizing the play and making a break on it, but if a quarterback was throwing the ball instead of a running back, would Darby have had the time to get back in position? NFL quarterbacks won't loft the ball like Madden did above.
Darby lacks great hands, and has dropped multiple interception chances. He doesn't possess the speed to be a starting cornerback at the next level but isn't bulky enough to play strong safety in the NFL. Darby is a ferocious hitter, but that works against him sometimes and he's missed tackles from going for the big hit before.
Speaking of tackling, Darby has room for improvement. He racked up a lot of tackles while in Tempe but was often trucked or stiff armed by opposing ball carriers. Check out this play from the USC game.
Darby makes a good read on the ball carrier and appears to size him up well but still gets bowled over by the USC back. Darby made contact with the running back at the 30 yard line and got pushed back to the 35, going from a five yard gain to a first down. That won't cut it in the NFL.
Overall
I like Darby a lot, both as a fan who watched him at every home game last year and as a journalist covering the team for House of Sparky. He makes his teammates better, and is a leader of men. However, when looking at the Chargers safeties, it's hard to envision Darby finding a niche. Eric Weddle is All-World at free safety, and Darby is competing with three incumbents from the 2013 season. Darrell Stuckey is a captain, who hasn't played much on defense but is a special teams ace, Jahleel Addae, who made the team as an undrafted rookie last year and is challenging for the starting position at strong safety, and converted cornerback Marcus Gilchrist. Undrafted rookie Adrian Phillips is also trying to win a spot on the team.
Alden Darby acclimated well this spring. Chance he becomes second undrafted rookie safety to make Chargers in as many years (Jahleel Addae).

— Michael Gehlken (@UTgehlken) June 19, 2014
Chances Alden Darby makes the final roster: 30%. As with Chris Davis, who we profiled in part one of this series, Darby will likely need to demonstrate ability on special teams. He's not an exact fit at either cornerback or safety, but could play some zone corner and be a special teams gunner in addition to being a backup at either free or strong safety. Is that enough to make the Chargers? I wouldn't put my money on it, but his work ethic and leadership make him a great ambassador to the game of football and will aid him in carving out a solid NFL career.