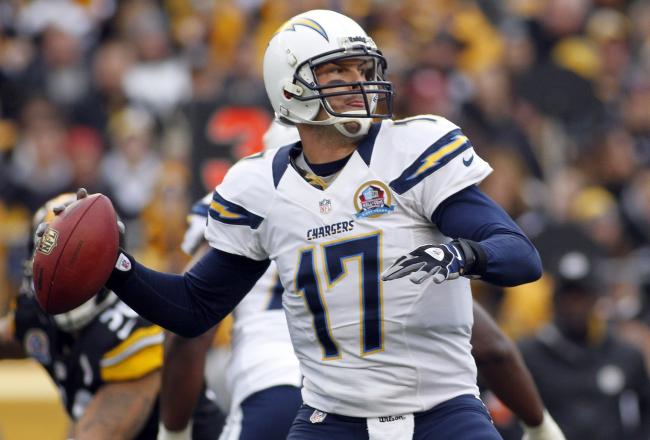 There are many, many holes on the Chargers roster. Offensive line, defensive line, corner, etc. This team is undergoing a massive overhaul, starting from the top. The Chargers, as many, actually all of you know, have a new GM in Tom Telesco and a new head coach in Mike McCoy. Tom Telesco is being charged with rebuilding a team that AJ Smith managed to destroy. Mike McCoy's first priority is fixing quarterback Philip Rivers. There is more to turning this team around than fixing the quarterback. Virtually every position except for center has question marks. Let's see just what holes they do have.
Tackle. This is the most talked about hole on this roster. Jared Gaither was a major waste of money, and he is now jobless. The Chargers did sign King Dunlap, but there needs to be more talent added at this position. San Diego has expressed interest in former Kansas City right tackle Eric Winston. Winston would bolster the right side of the offensive line, and King Dunlap could slide over to left tackle.Dunlap may not end up with the starting job, but he'll add talent and depth to a position that direly needs it. Expect the Chargers to add another tackle at some point in the draft.
Guard. Louis Vasquez recently signed with the Broncos, causing what was a minor hole into a gaping hole at the guard position. Tyronne Green has not been a good replacement to Kris Dielman. They did, however, add starting talent in Chad Rinehart, who played under new offensive line coach Joe D'Alessandris at Buffalo, so he also has experience with the system and he can help the other lineman adjust to the new zone blocking scheme. Rich Ohrnberger was also signed to add depth and possibly start. San Diego may also add a guard in the upcoming draft.
Running Back. I know Danny Woodhead was just signed, but not one running back on the Chargers roster can fill the void left by Ryan Mathews, because it isn't a matter of if, but of when he will get hurt again. Ronnie Brown will play a similar role to last season. Fozzy Whittaker and Edwin Baker are developmental players. San Diego needs a back that can carry the load once Mathews goes down, and they need to address this position come April.
Wide Receiver. There is still a good chance that Danario Alexander will not remain with the team, and behind him and the aging Malcolm Floyd, Vincent Brown is the only compatible option. Eddie Royal was off and on, and Robert Meachem just didn't play well at all, minus the Saints game. Richard Goodman is solely a return man, and the other receivers aren't proven whatsoever. Philip Rivers needs targets if he is to succeed at all this season. This position has needs and they will possibly be filled in a month.
Defensive Tackle. Cam Thomas is the only defensive Tackle on the roster, need I go on? This position will definitely be addressed in a month.
Middle Linebacker. Takeo Spikes was released, and he didn't even play all that great. Demorrio Williams won't be back, and next in line is Jonas Mouton, who has seen little to no action. San Diego needs another starting middle linebacker to play alongside Donald Butler.
Cornerback. Derek Cox was recently signed, but this team needs a starter to play opposite him. Marcus Gilchrist may turn out to be the guy, or mayber even Shareece Wright, but depth is still needed anyways. This position is almost a lock to be addressed during the draft.
Strong Safety. Atari Bigby didn't play up to standards, and he was let go. Backup Brandon Taylor isn't a lock to even play during the first part of the season, as he is coming off ACL surgery. The Chargers could afford to add talent here in some fashion.
Outside Linebacker. There are only three outside linebackers on the roster, Jarret Johnson (run stopper), Melvin Ingram (unproven commodity), and Larry English (bust). Shaun Phillips is all but gone, and Antwan Barnes is now a Jet. San Diego needs pass rushers. Badly. I expect this position to be filled early in the draft process.
Defensive End. Both Corey Liuget and Kendall Reyes are solid players, but there is little to nothing behind them. Damik Scaife is a practice squad player. Antonio Garay just signed with the Jets, so this position needs some depth.
What needs do you think the Chargers have? How will they address them? Comment below.