Tom Telesco has done an excellent job so far in Free Agency. He has filled multiple positions with talented and capable players. He has filled voids at guard, tackle, cornerback, and tight end. Derek Cox should be a starter at one of the corner spots this coming season. He is an upgrade over both Quentin Jammer and Antoine Cason, who just signed with the Arizona Cardinals. Guard Chad Rinehart should be a solid replacement for Louis Vasquez, the newest member of the Denver Broncos. King Dunlap will add depth and possibly challenge to start this season. Dunlap was brought in from the Philadelphia Eagles, where he had played both guard and both tackle spots. His versatility makes this signing really smart. San Diego just signed Danny Woodhead, the do-it-all back is going to fill the hole left by Darren Sproles, who Philip Rivers sorely missed. Add in the signings of Fozzy Whittaker and John Phillips, and it is obvious that Telesco is trying to get younger, which bring me to my next point..
Telesco cut Atari Bigby last week, and Brandon Taylor, the Chargers 3rd round pick out of LSU, is coming off of a serious knee injury. San Diego needs to sign a solid athlete at the strong safety position, and to me, one name keeps coming to mind, Bernard Pollard. Bernard Pollard was the starting strong safety for the Baltimore Ravens this past year. You know, the Super Bowl Champion Baltimore Ravens? Pollard was cut due to cap difficulties as a result of the MASSIVE contract signed by Joe Flacco. Because of that contract, the Ravens also traded away Anquan Boldin, and Dannell Ellerbe signed a huge deal with the Miami Dolphins.
Back to the point. Bernard Pollard was extremely effective last year, as he was lighting up anybody daring to catch a pass over the middle, and laying out anybody who tried to take him head-on, just ask Stevan Ridley and Wes Welker.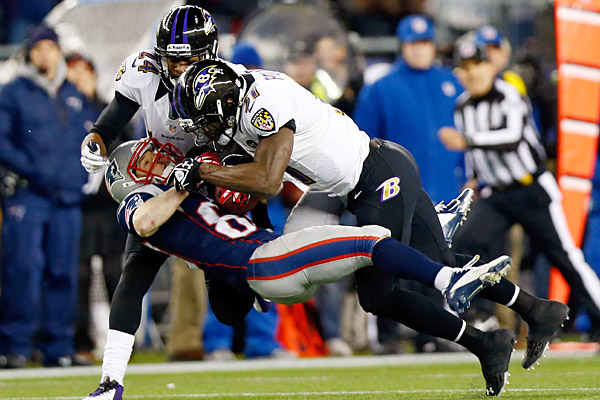 He was also fairly decent in coverage, as he had one interception and six passes defended. He is also a sure tackler, as he racked up 98 tackles last season. Another element to his game is his ability to rush the passer. He tallied two sacks last year, and that is impressive for a safety. The Chargers have needed a compliment for safety Eric Weddle for years, and none of them have panned out. There was the Bob Sanders signing, which was fairly exciting, and that failed miserably, as he was on the IR just a few weeks into the season. Then there was Atari Bigby. Bigby had an average season, and didn't excel in any one area, which is one reason why he was cut. Bernard Pollard is the perfect fit for San Diego. Pollard played for Chargers Defensive Coordinator John Pagano's brother Chuck in Baltimore for a season. Pollard plays the run as good as any safety in the NFL, and plays the pass well to boot. Another reason to sign Pollard is the fact that he is still young at age 28. The Chargers are trying to get younger as a team, and are trying to shore up their secondary, and Pollard fits the description for both. He'd add to an already impressive defense.
To the Chargers I have one question: Why haven't you signed this man yet?