This is a team of the best Chargers who are not, and may be never will be, members of the Pro Football Hall of Fame

Defensive Tackle : Gary "Big Hands" Johnson



Johnson was San Diego's first pick in the 1975 draft, selected eighth overall. That 1975 draft might be the best in franchise history. The Chargers had two picks in the first, second, fifth, sixth, eighth, 11th, and 13th rounds.

Ten players from the draft played in the NFL, but San Diego got a Hall of Famer, a pair of Pro Bowlers, and eight solid starters from it. Five were defensive players.

San Diego tried to bring him along slowly as a rookie, starting John Teerlink for the first five games. Teerlink, now a noted defensive line coach who has won three Super Bowls, could not keep Johnson on the bench and soon was replaced after six games.

San Diego had an exciting defensive line of Pro Bowler Coy Bacon with three rookies, Johnson, Fred Dean, and Louie Kelcher, that year. Yet they acquired Leroy Jones and then traded Bacon to the Cincinnati Bengals for future Hall of Fame wide receiver Charlie Joiner before the 1976 season.

The mammoth Jones fit in nicely and soon the Chargers had the best defensive line in the NFL. Not only was it nearly impossible to run up the middle of the San Diego defense, bit their defensive linemen were very athletic. Johnson took an interception 52 yards for a touchdown in 1978.

The 1979 season was the first of his four consecutive seasons being named to the Pro Bowl. Though sacks were not an official statistic, the Chargers piled them up in great numbers.

San Diego's front four was called the "Bruise Brothers". The quartet had 60 sacks themselves in 1980, and Johnson got 17.5 of them. He was named First Team All-Pro that year and the next season. He also intercepted another pass and ran for a touchdown in 1981.

The 1982 season was his last as a Pro Bowl player, and he recorded a safety. After the 1983 season, Johnson and Kelcher were looking to get a raise in pay. The Chargers owner, Eugene Klein, was not willing to acquiesce.

Klein had the same issue with Dean in 1981, where he ended up trading the future Hall of Famer to the San Francisco 49ers. He had already let Billy Shields, who had started at left tackle the last eight seasons, go to the 49ers along with Kelcher before the season began.

After four games with the Chargers in 1984, Johnson was traded to the 49ers and joined Dean, Kelcher, and Shields. All three happened to be drafted with him by San Diego in 1975. The ex-Chargers contributed mightily to the 49ers cause that year.

Johnson had five sacks, a safety, and scored a touchdown off a fumble recovery in his 12 games. When San Francisco got to the NFC Championship Game against the Chicago Bears, "Big Hands" had two sacks in the Niners win.

San Francisco faced the Miami Dolphins in Super Bowl XIX, Johnson had a sack as the Niners won. He played 11 games for San Francisco the next year and then retired.

His four Pro Bowls is tied as the most ever by a Chargers defensive tackle. His 17.5 sacks in 1980 is still a team record and he was credited with 67 in his Chargers career.

He, Kelcher, and Dean once all started in a Pro Bowl game. It is the only time in NFL history where three defensive linemen from the same team accomplished that feat.

Sacks were not officially recorded until 1982, so he will never be given the full credit he deserves. But Chargers fans lucky enough to have seen "Big Hands" dominate know how great he truly was. He was also one of the most beloved teammates in the Bolts locker room.

Johnson is one of the 50 Greatest Chargers and a member of the Chargers Hall of Fame, the San Diego Hall of Champions, and College Football Hall of Fame.





Defensive Tackle : Ernie "Big Cat" Ladd



Ladd was a 15th round draft pick of the Chargers in the 1961 AFL Draft. The Chicago Bears drafted him in the fourth round of the NFL Draft. At 6'9" 300 lbs, he was the biggest man in professional football at the time.

He chose to join the Chargers and stood out right away, being named First Team All-Pro as a rookie. After being named to the Pro Bowl the next year, San Diego moved him from right defensive tackle to the left side to line up next to Pro Bowler Earl Faison.

The moved paid off as the Chargers had the top defense in the league and won the AFL Championship. Ladd was one of 11 Chargers to go to the Pro Bowl that year. He went to the Pro Bowl the next two years, as well as being named First Team All-Pro.

San Diego had Ladd and Faison both wanting more money. They traded Ladd to the Houston Oilers in 1966, where he played one season. After four games with them in 1967, the Oilers traded him to the Kansas City Chiefs.

With the Chiefs, Ladd was reunited with Hall of Famer Buck Buchanan. Both had played together at Grambling State University. Buchanan was 6'7" 270 himself, giving the Chiefs the largest defensive tackle duo in pro football history. He stayed with Kansas City until 1968 before retiring.

During his rookie year, Ladd got involved with professional wrestling. He won several titles as both a singles and tag team competitor, building rivalries with some of the greatest in the business. He was a heel typically, known for his excellent oratory skills on the microphone.

He would antagonize and feud with legends like Andre the Giant, the Junkyard Dog, and Paul Orndorff. Ladd is inducted in several wrestling Hall of Fame's such as the WWE and WCW.

His four Pro Bowls is tied as the most ever by a Chargers defensive tackle.
He is one of the 50 Greatest Chargers and is inducted into both the Chargers Hall of Fame and the San Diego Hall of Champions.

Ernie Ladd was so big that Boston Patriots center John Morris said facing Ladd was like playing football in a closet. "It was dark because he blocked out the sun he was so big. I couldn't see the goalposts."

Not only has professional football not seen a character like him since, the Chargers haven't had the excellent play he brought since he left.

Louie Kelcher, Jamal Williams, Bill Hudson, Shawn Lee, and John Parrella deserve mention.




Defensive End : Earl Faison



Faison was the Chargers first-round draft pick in 1961 AFL Draft. Despite being an All-American two-way player at Indiana University, where he he is inducted into their Hall of Fame, he wasn't drafted until the fifth round of the NFL Draft by the Detroit Lions.

He started immediately for San Diego and quickly became a star. A stunning athlete at 6'5" 270, Faison had a propensity of intercepting passes his entire career. He intercepted two passes as a rookie and was named AFL Rookie of the Year, First Team All-Pro, and a Pro Bowler.

Faison began to face multiple blockers each down because he was often harassing the opposing quarterbacks. It did not slow him down, but he missed six games his second year due to a knee injury. He still was named an Pro Bowler after intercepting a ball.

The 1963 season was the only year Faison failed to intercept a pass in his career, but he was still one of the best defensive ends in pro football. San Diego won the only title in their franchise history that year and Faison was named to the Pro Bowl and First Team All-Pro.

He was named to the Pro Bowl and First Team All-Pro in each of the next two years as well. Faison also picked off a pass each year and ran for touchdowns. He then asked for a pay raise and almost bolted to the Canadian Football League.

He was traded to the Houston Oilers because of these contract differences, but the trade was nullified when Oilers owner Bud Adams was found guilty of tampering. Faison then injured his back after three games and was released.

The Miami Dolphins signed him right away and he played six games with them. Faison intercepted a pass and took a fumble recovery for a touchdown.. Despite this, Miami tried to trade him to the Denver Broncos, but his back issues made Denver send him back to Miami.

The Dolphins then cut him, so Faison decided to retire. After a few acting stints, he got into coaching high school football. Hall of Famer Marcus Allen was his most famous student at a school that has sent 12 men to pro football.

His five Pro Bowls are the most ever by a Chargers defensive end. No other Chargers defensive lineman has scored as many touchdowns off interceptions than him, and his five interceptions with San Diego is the most by a Chargers defensive lineman ever.

His four First Team All-Pro nods are the fourth most in Chargers history. Only Hall of Famers Ron Mix and Lance Alworth, along with future Hall of Famer Junior Seau, have more.

Faison is one of the 50 Greatest Chargers and has been inducted into the Chargers Hall of Fame and the San Diego Hall of Champions.

Amazingly, he was left off the AFL All-Time Team despite having more First Team All-Pro nods than all of the four defensive ends selected, and he went to more Pro Bowls than three of them.

Sacks were not recorded in his era but Faison put up accolades worthy of induction into Canton in his six seasons. Critics who point to his 73 games played only need to look at the 68 games Hall of Famer Gale Sayers played as a rebuttal. Faison went to one more Pro Bowl than Sayers and had one less First Team All-Pro nod.

He is easily the best defensive end in Chargers history.





Defensive End : Leslie O'Neal



O'Neal was the Chargers first-round draft pick in 1986, the eighth player chosen overall. He exploded onto the NFL scene in his rookie year despite missing three games.

He intercepted two balls, returning one for a score. The 82 tackles he had were the most he ever accumulated playing defensive end, and he also tallied 12.5 sacks. O'Neal was named NFL Defensive Rookie of the Year, becoming the first Charger defender to win such an award since the 1961 season when Earl Faison won AFL Rookie of the Year.

He was unable to play the entire 1987 season because of injury. San Diego spotted him in nine games during the 1988 season, where he had a career low four sacks. They then decided to move him to outside linebacker.

O'Neal played outside linebacker for three years. He went to the Pro Bowl twice over that time and had 35 total sacks. The 96 tackles he had in 1989 was the best of his career.

San Diego had been playing a 3-4 defense. They switched to a 4-3 defense in 1992 and improved greatly on defense. O'Neal went back to defensive end and Pro Bowler Junior Seau replaced him at linebacker. Ranked 21st in scoring defense in 1991, San Diego improved to fourth best in 1992.

The 1992 season was also one of his best seasons as a player. O'Neal piled up a career best 17 sacks and was named to his first of four consecutive Pro Bowls as a defensive end.

He was the Chargers sack master over this time. He had 54 sacks over those four seasons. When his contract expired after the 1995 season, the Saint Louis Rams signed O'Neal to a free agent contract.

Though O'Neal lasted just two year with the Rams, his 1997 was excellent. He had 10 sacks, an interception, and scored off of a 66-yard fumble recovery return. Despite this, Saint Louis let him sign with the Kansas City Chiefs in 1998.

The Chiefs lined him up at both linebacker and defensive end the next two years, where he had 10 total sacks before retiring at the end on the 1999 season.

Of his 132.5 career sacks, which is eighth best in NFL history, 105.5 came with the Chargers. It is the best in team history and O'Neal is one of 24 NFL players with at least 100 sacks in a career. He ranks fourth in tackles for a Charger, but first amongst all defensive linemen.

Not only was Leslie O'Neal named one of the 50 Greatest Chargers, he is one of the best defensive players in team history.

Lee Williams, Steve DeLong, Marcellus Wiley, Ron Nery, Bert Grossman, Chris Mims, Raylee Johnson, and Coy Bacon deserve mention.





Outside Linebacker : Woodrow Lowe



The Chargers somehow lucked into Lowe in the fifth round of the 1976 draft. It was amazing the three-time All American, who is now in the College Football Hall of Fame, lasted that long.

Lowe earned a starting job immediately and held onto it the rest of his career. While stout against the run, Lowe was an expert blitzer, lock down pass defender, and big-time playmaker who was always around the ball.

The 1979 season was one of his best. Lowe swiped a career best five balls and returned them for 150 yards. He led the NFL with two touchdowns off of interceptions. Despite an excellent year, he was left off the Pro Bowl roster.

He followed up that year with a solid 1981 season. Lowe picked off three balls and took one in for a touchdown. He was one of the top outside linebackers of the game, but Hall of Famers Jack Ham and Ted Hendricks, along with the great Robert Brazile, typically went to the Pro Bowl over that time.

The 1984 season saw him miss one game because of injury. It was the only game he missed in his 11-year career. He scored the last touchdown of his career by taking one of his three picks for a score. Lowe retired at the end on the 1986 season.

His four touchdowns is a Chargers record by a linebacker. Only three linebackers in NFL history have scored more touchdowns off interceptions than Lowe.

His 21 interceptions are the ninth most in team history, and is the most by any Chargers linebacker ever.

Lowe is one of the 50 Greatest Chargers and should one day find himself in the Chargers Hall of Fame.

There were few players more underrated than him in his era. Sacks were not recorded until 1982, so the 15 he has officially recognized are not a true indication of his greatness. Tackles were not recorded his entire career, but he was almost always in on the play.

Though he was never invited to the Pro Bowl, Woodrow Lowe is definitely one of the best linebackers in Chargers history.




Middle Linebacker : Chuck Allen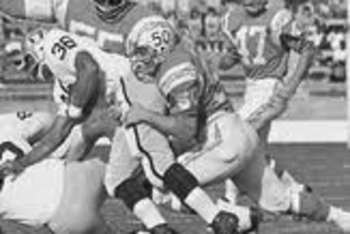 Allen was drafted in the 28th round of the 1961 AFL Draft by the Chargers. The Los Angeles Rams tabbed him in the 17th round of the NFL Draft, but he wisely chose San Diego because the Rams had Hall of Famer Les Richter at middle linebacker.

San Diego tried to bring the rookie along slowly, but Allen won the starting job for the final nine games in what was one of his best seasons. He had career best marks of five interceptions and 111 return yards. One pick was taken 59 yards for a touchdown.

He made his first Pro Bowl in the Chargers 1963 title year. Allen picked off five balls and returned a fumble 42 yards for the last touchdown of his career. He was moved to outside linebacker the next year, but was still named a Pro Bowler.

The Chargers moved Allen back to middle linebacker in 1965, where he would stay the rest of his career. While he was tough against the run, the cerebral Allen was also solid against the pass.

He missed 13 games over his last four seasons in San Diego, because of injury, after not missing a game the previous four years. San Diego traded him to the Pittsburgh Steelers before the 1970 season,

After two solid seasons in Pittsburgh, where he snagged seven interceptions, Allen joined the Philadelphia Eagles in 1972. Though he started eight games, he spent most of his time mentoring young linebackers like Steve Zabel and John Bunting.

Allen retired after the 1972 season and later became the Vice President of Football Operations for the Seattle Seahawks. His 20 interceptions are the most ever by a Chargers middle linebacker. Allen is one of the 50 Greatest Chargers and a member of the Chargers Hall of Fame.

The two Pro Bowls he went to is the most ever by a Chargers middle linebacker and he might be the best to have ever played the position for the team.

Rick Redman, Gary Plummer, and Donnie Edwards deserve mention.




Outside Linebacker : Emil Karas



Karas was drafted in the third round of the 1959 NFL Draft by the Washington Redskins. He played 11 games, starting four, and intercepted a pass. He then bolted to the Los Angeles Chargers of the fledgling American Football League in 1960.

The Chargers had him play middle linebacker in their first year. They moved him to the outside the next year, and the move paid off. The Chargers had the top defense in the AFL and made it to the title game before losing 10-3.

He had a career high three interceptions that year and made the first of three consecutive Pro Bowls. He got hurt in 1964 and missed 10 games. The injuries lingered into the next season and Karas played just two games before retiring.

Karas is one of the few Chargers to have been on all five teams that made it to the AFL title game. His three Pro Bowls is the second most by an outside linebacker in Chargers history.

He was one of four men inducted into the inaugural class of the Chargers Hall of Fame and is certainly one of the best linebackers in franchise history.

Frank Buncom, Paul Maguire, Don Goode, Linden King, Pete Barnes, Bob Laraba, and Billy Ray Smith deserve mention.





Strong Safety : Kenny Graham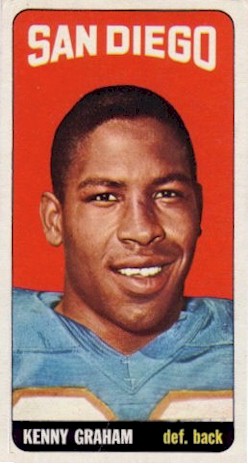 Graham was drafted in the 13th round of the 1964 AFL Draft by the Chargers. The Baltimore Colts drafted him in the 12th round of the NFL Draft. He joined the Chargers, fresh off winning the AFL title.

He won the starting job in training camp and held onto it the rest of his Chargers career. Graham quickly became known for always being around the ball and delivering jarring tackles.

After four interceptions as a rookie, he made his first Pro Bowl the next year after getting a career high five picks. He scored a touchdown off an interception, a feat he would accomplish the next two years as well.

Though he did not go to the 1966 Pro Bowl, he was named First Team All-Pro after getting five more picks and scoring once. He went to the Pro Bowl every year with the Chargers except for his rookie season and the 1966 year.

The 1969 season was one of his best. Graham led the AFL with two touchdowns off his four interceptions. He also forced four fumbles and recovered four fumbles.

Despite being one of the greatest strong safeties in AFL history, the Chargers let him join the Pittsburgh Steelers in 1970. Graham got hurt in the third game and was released. The Cincinnati Bengals signed him for the final five games and he picked off three balls.

Graham then retired at 29-years old because of his injuries. His four Pro Bowls are the most ever by any defensive back in Chargers history.

His 25 interceptions are the fourth most in team history, and his five interceptions returned for touchdowns is tied as the most in franchise history.

San Diego also asked him to field punts on occasion. As a punt returner, his 38 career fair catches is a AFL record as is the 24 he had in the 1969 season.

Kenny Graham is a member of the AFL All-Time Team, but has amazingly been left out of the Chargers Hall of Fame so far. His exclusion from the 50 Greatest Chargers Team is beyond disgraceful.

Emerson Boozer, the great running back of the New York Jets, said no one hit harder than Graham. It is obvious he was dangerous around and with the ball. He is the best strong safety in Chargers history.

Rodney Harrison, Mike Fuller, Darren Carrington, and Bryant Salter deserve mention.





Free Safety : Joe Beauchamp



Beauchamp joined the Chargers as an undrafted free agent in 1966. Halfway through the year, he found himself supplanting veteran Bud Whitehead for starts at free safety and swiped a pair of passes.

The Chargers moved him to cornerback the next year and he picked off three balls. San Diego moved him back to free safety in 1968 and he led the team with five interceptions and two fumble recoveries. Two interceptions were returned for touchdowns, which led the AFL that year.

Despite that success, the Chargers moved him back to cornerback the next three seasons. He began the 1972 season at cornerback, but was moved back to free safety, where he had a career high six interceptions and scored the last touchdown of his career off a pick.

Beauchamp stayed at free safety the next two years but was bitten by injuries. He missed nine games over that time. The Chargers moved him back to cornerback in 1975, but was only able to play eight games. He retired at the end of the year.

His 23 interceptions with the Chargers is still the sixth most in team history. The three touchdowns he scored off of interceptions in the fourth most in Chargers history.

Joe Beauchamp has not earned any accolades, but his versatility should not be forgotten. He played wherever he was told to help the team.

Charlie McNeil almost got this slot based on his amazing 1961 season where he had 9 picks for a whopping 349 yards and two scores. He still owns the record for 177 yards off interceptions in a single game. But it was his only full season played in five years, and he missed 28 games.

Though his 14 interceptions as a free safety is less than the 19 McNeil had, the fact he played three different positions in the secondary over a decade for San Diego gets him the nod here.

Charlie McNeil, Glen Edwards, Vencie Glenn, Stanley Richard, Bud Whitehead, Bob Zeman, Hanik Milligan, Pete Shaw, and Chris Fletcher deserve mention.





Cornerback : Gill Byrd



When the Chargers made Byrd their first-round pick in 1983, they asked him to be their top cornerback almost immediately because San Diego had a pair of rookies starting that year.

He showed that he was up to the task especially in 1984. Byrd picked off four balls and returned them for a career best 157 yards. He scored twice off of interceptions, including a 99-yarder.

The Chargers were starting three rookies in the secondary in 1985, so they moved Byrd to strong safety to help the defense out. They moved him to free safety the next year for seven games. Rookie Vencie Glenn showed improvement, so they moved Byrd back to cornerback for the rest of his career.

The 1987 season was shortened four games because of a players strike. It is also the only season in Byrd's career he failed to intercept a pass. He rebounded strong by getting a career high seven interceptions in each of the next three seasons.

Byrd got his first Pro Bowl honor in 1991. After getting his second Pro Bowl nod in 1992, as well as being given the Bart Starr Man of the Year Award, he retired. He has been coaching defensive backs for the Chicago Bears since 2006.

His 42 interceptions are the most in team history and Byrd is one of the 50 Greatest Chargers and a member of the Chargers Hall of Fame.

San Diego has had quite a few excellent cornerbacks play for them and Gill Byrd might be the best of them all. He was also tough, missing just seven games in his ten seasons. The fact that he played every position in the defensive secondary shows how excellent he was.





Cornerback : Dick Harris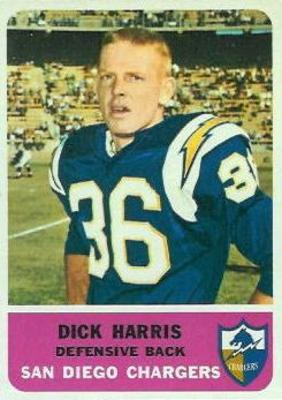 Harris joined the newly formed Los Angeles Chargers as a free agent rookie in 1960. He was placed in the starting lineup right away. The Chargers also asked him to return 13 punts that year, a chore they would ask him to do just 14 times the rest of his career.

Where Harris excelled was on defense. The AFL did not have an All-Star game in 1960, but Harris was named First Team All-Pro after intercepting five passes and returned one for a touchdown. It set the stage for perhaps the best year of his career.

The 1961 season saw Harris grab seven picks. He returned three for touchdowns, which led the AFL and still is a Chargers record for the most touchdowns off interceptions in a single season. It is also an AFL record, though Miller Farr of the Houston Oilers matched it in 1967.

Harris was named to the first AFL All-Star game and given another First Team All-Pro honor. He followed that up with five the next year. In the Chargers 1963 championship season, Harris had a career best eight interceptions and scored the last touchdown of his career.

He got off to a fast start in 1964, picking off three balls for 82 yards in just six games. He then got hurt and missed the rest of the year. They would be the only eight games of his career that he would miss. Harris returned the next year, but found himself backing up Speedy Duncan. Harris intercepted one ball that year then retired.

His 29 interceptions are the second most in team history, and his five interceptions returned for touchdowns is tied as the most in franchise history. Those five touchdowns off of interceptions is tied with four others as the second most in AFL history.

His two First Team All-Pro nods are the most ever by a Chargers defensive back. San Diego has had several excellent cornerbacks, and the legendary Speedy Duncan was almost put in this slot. I chose Harris because he helped a young team get off the ground to excellence fast by standing out far apart from most others.

Speedy Duncan, Mike H. Williams, Willie Buchanon, Joe Beauchamp, Claude Gibson, Danny Walters, Donald Frank, Bob Howard, and Dwayne Harper deserve mention.






Punter : Darren Bennett



Bennett joined the Chargers as a 30-year old free agent rookie in 1995. He became the only Chargers punter to ever be named First Team All-Pro in his rookie year, and he was named to the Pro Bowl as well.

He became a big part of the team immediately. Bennett never averaged less than 43.9 yards per punt in his first six seasons. This includes the 1998 year where he attempted a career high 95 punts.

The 2000 season was his last as a Pro Bowler. Bennett led the NFL with a career high average of 46.2 yards per attempt. He had one of his most difficult season in 2002. The 37-year old had two punts blocked while averaging 40.7 yards per attempt. It was his lowest average with the Chargers.

He signed a free agent contract with the Minnesota Vikings in 2004 at 39-years old. He got hurt in the preseason of the 2005 season and was replaced by current Vikings punter Chris Kluwe.

Kluwe had to miss a game that year because of injury, so the Vikings called on Bennett. He played one game and punted eight times. One included a 53-yarder. Kluwe then returned, so Bennett retired.

His journey to the Chargers was a special one. Born in Australia, he had previously player 12 years of Australian Rules Football. He retired from the game because of injuries, but led that league twice in goalkicking and is considered a legend of the game.

Bennett got married and decided to honeymoon in California. He stopped by the Chargers offices asking for a tryout. The Chargers brass was impressed enough to have him play that spring in NFL Europe. He earned all-league honors and then joined the Chargers.

One of his career highlights came in 1999 when the Chargers traveled to Australia to face the Denver Broncos in the NFL's first American Bowl.

At 6'5" 235, he loved to tackle return specialists. He knocked one unconscious in his rookie year. He also brought a new style of punting to the NFL.

He used the "drop punt", which is common in Australian Rules Football. The NFL calls it a "pooch punt". Bennett was so good at it that other teams scored Australia looking for punters.

In 2005, the New York Jets signed Ben Graham, who had been playing Australian Rules Football for 12 years and is the same size as Bennett. Graham, now punting for the Arizona Cardinals, has been to the Pro Bowl and tied a record for 49 punts inside the 20-yard line in 2009.

Darren Bennett is a member of the NFL's 1990s All-Decade Team. His two Pro Bowls are the most ever by a Chargers punter and he is one of the 50 Greatest Chargers. No other Charger has more punts or punt return yards than he does, and he is probably the best punter in team history.

Ralf Mojsiejenko, Jeff West, Dennis Partee, and Paul Maguire deserve mention.







Punt Returner : Leslie "Speedy" Duncan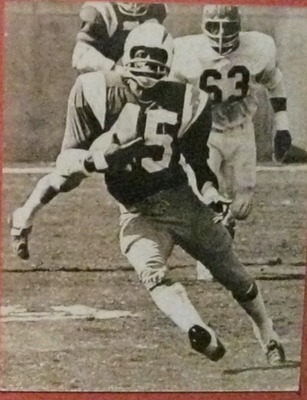 Duncan was an undrafted rookie who was signed by the 1964 San Diego Chargers. He only got to play five games as a rookie, but did manage to intercept a pass and return one of his nine kickoff returns for a career best 91 yards.

Speedy got on the field more the next year and lead the league in punt return yardage with a career best total of 464. He also led the AFL with a career high 15.5 yards per return average and two touchdowns scored off punt returns. Duncan also excelled at cornerback, grabbing four interceptions, which helped garner his first Pro Bowl honor.

Duncan was a Pro Bowler again in 1966, when he picked off a career best seven balls. He also scored on a league leading 81-yard punt return, and led the league with a 13.2 yards per punt return average.

He went back to the Pro Bowl once again in 1967, when he averaged 12.1 yards per punt return, and picked off two passes and took one interception for a league leading 100 yard touchdown return. This was a team record until 1987.

Duncan scored his last punt return TD in 1968. He took a punt for a career long 95 yards, which led the league. It is also a Chargers record. In 1969, he had six interceptions for a career best 118 yards while scoring a touchdown on a 72-yard jaunt.

He then was injured in the sixth game of the 1970 season, and missed the rest of the year. Duncan joined the Washington Redskins in 1971, and made his last Pro Bowl team after leading the NFL with a 10.6 yards per punt return average.

Washington used him as an extra defensive back, but he also scored his last NFL touchdown when he took his lone interception for a 46 yard score.

Duncan was an important member of the 1972 NFC Champion Redskins while sharing return duties with Herb Mul-Key and backing up cornerbacks Pat Fischer and Mike Bass.

He retired after the 1973 season with a 10.9 career average on 202 punt returns and four punt return touchdowns. He also had 24 career interceptions for three touchdowns, and a 25.2 average on 180 kickoff returns.

Duncan leading the league in punt return average three times is tied for an NFL record. He has the most punt returns in AFL history and is the one of three players to lead the league twice in returns.

Duncan has the most punt return yards in AFL history, as well as having the longest punt return ever. His four touchdowns is tied as the most in AFL history, as is his two in one year.

His 25.9 yards on 115 kickoff returns is the second best in AFL history for a career. His 248 combined returns is the most ever by an AFL player, and his 4,617 total combined is the second most.

The four touchdowns off punt returns is a Chargers record and he ranks second in career returns and return yards on punts. He also ranks fourth in kickoff returns and yards and his 25.3 return average is the best in Chargers history by anyone with more than 50 returns.

Besides being probably the best return specialist in Chargers history,he was a great cornerback. His 21 interceptions with San Diego still ranks seventh best in team history. His two touchdowns off interceptions is tied with 11 others as the fifth most.

His three Pro Bowls are the most ever by a Chargers cornerback.

Duncan is one of the 50 Greatest Chargers and a is member of the Chargers Hall of Fame.

Mike Fuller, Lionel James, Darrien Gordon, Eric Parker, James Brooks, Tim Dwight, Ron Smith, Kitrick Taylor, Andre Coleman, Nate Lewis, Keith Lincoln, and Eric Metcalf deserve mention.